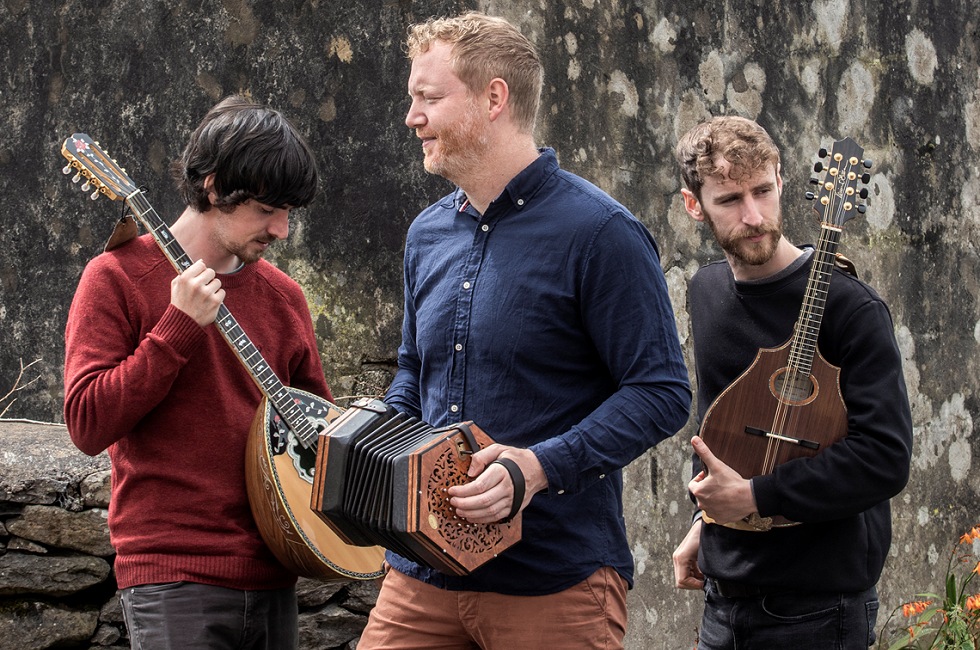 Dé Domhnaigh/Sunday 2Oth September 2020, 8pm
Ye Vagabonds & Cormac Begley (Music Network)
Beidh ticéid teoranta don ghig seo ach beidh sruthú ar fáil in ionaid eile sa cheantar. Tuilleadh sonraí ag teacht go luath.
Tickets are very limited for this concert but there will be streaming available in other venues in the area. More details coming soon.
Beidh ticéid ar fáil ón 1ú M. Fomhair
Tickets available from 1st September.
Tagann buaiteoirí Ghradam Daonna Raidió 1 Ye Vagabonds le chéile le fear an chonsairtín Cormac Begley ar thuras Music Network I mí Meán Fomhair
Tá ana-thóir ar na deartháireacha Brían agus Diarmuid Mac Gloinn, Ye Vagabonds le blianta beaga anuas. Is iontach na h-amhránaithe iad agus cur chuige ar leith acu I dtaobh cóiriú seana-amhráin, cur chuige atá dulta I bhfeidhm ar ana-chuid daoine. Ní h-aon ionadh go mbuadar trí cinn de Ghradam Daonna Raidió 1 chomh maith le Gradam Daonna BBC anuraidh. Ní h-aon stróinséir é Cormac Begley ó Chorca Dhuibhne do chomharceoil nua – caitheann sé ama ag seimnt le ceoltóirí éagsúla traidisiúnta agus comhaimseartha. Fuair a albam aonarach naoi gcinn de léirmheasanna 5 réalt agus bhí sé ar an ngearrliosta d'albam na bliana san Irish Times sa bhliain 2018. Tá sceitimíní ar lucht féachana náisiúnta cheana maidir leis an dtriúr seo a chlos I dteannta a chéile.
Music Network presents triple RTÉ Radio 1 Folk Awards winners Ye Vagabonds on tour in a new collaboration with renowned concertina player Cormac Begley.
Ye Vagabonds brothers – Brían and Diarmuid Mac Gloinn – are fast earning a ticket on the legend bus. With trademark close harmony singing, lean and tasty accompaniment and the rare ability to tell a good story in song, it's little surprise that they became triple RTÉ Radio 1 Folk awardees last year. In September they take to the road in a new Music Network collaboration with the superb West-Kerry concertina player Cormac Begley. No stranger to musical acclaim himself, Cormac's spectacular debut solo album received nine 5-star reviews and was shortlisted for the Irish Times Album of the Year 2018. Weaving seamlessly between traditional and contemporary songs and tunes, this spellbinding trio will remind us just how precious live music is.