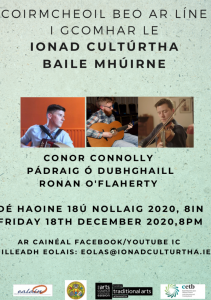 COIRMCHEOIL AR LÍNE/ONLINE CONCERT
Triúr cheoltóir iontach ón nGaillimh atá linn do choirmcheoil fíor-speisialta a bheidh á shruthú ar líne ar an Aoine 18ú Nollaig ó 8in. Bronnadh Gradam Ceoil TG4 Ceoltóir Óg na Bliana ar an mboscadóir is amhránaí Conor Connolly sa bhlian 2019. As Droichead an Cláirín do Chonor go bhfuil tionchar láidir ag a leithéidí Joe Cooley, Charlie Harris agus Tony McMahon air. Ó Chonamara, tá an giotaraí Pádraig Ó Dubhghaill le feiscint is le clos i dteannta mórán ceoltóirí traidisiúnta le blianta beaga anuas, ina measc Johnny Óg Connolly agus Colm Gannon. Giotáraí go bhfuil tuiscint doighin aige ar an dtraidisiún is ea Pádraig agus stíl nádúrtha ar leith aige. Is veidhleadóir traidisiúnta aitheanta é Ronan O'Flaherty ón nGaillimh a sheinn agus a thaifead le Dé Danann, Edel Fox agus mórán eile le blianta beaga anuas. Chomh maith le a bheith ag múineadh ceoil, bíonn sé le feiscint ina dtigh ósta fhéin, Tigh Chóilí, ag seimnt nó taobh thiar den gcontúrt. Buíochas ar leith le Liam O'Brien as taifead a dhéanamh ar an gcoirmcheoil dúinn.
A very special online with three superb traditional musicians from Galway which will be streamed online from Friday 18th December at 8pm. Conor Connolly from Clarinbridge was awarded TG4's Ceoltóir Óg na Bliana in 2019. An accordion player and singer, Conor's music has been greatly influenced by Joe Cooley, Charlie Harris agus Tony MacMahon. Guitarist Pádraig Ó Dubhghaill, from Connemara, can be seen and heard performing and recording alongside many different traditional musicians including Johnny Óg Connolly and Colm Gannon. A guitarist with a deep understanding of the tradition whose natural style of accompaniment is in great demand. Fiddle player Ronan O'Flaherty, from Galway city, has played and recorded with Dé Danann, Edel Fox and many others in recent years. As well as teaching fiddle, he also can be seen performing and working in his family pub, Tigh Chóilí, the well-known traditional music establishment. Special thanks to Liam O'Brien who took care of the technical side of the concert.
Streaming on Facebook and Youtube channels of Ionad Cultúrtha.