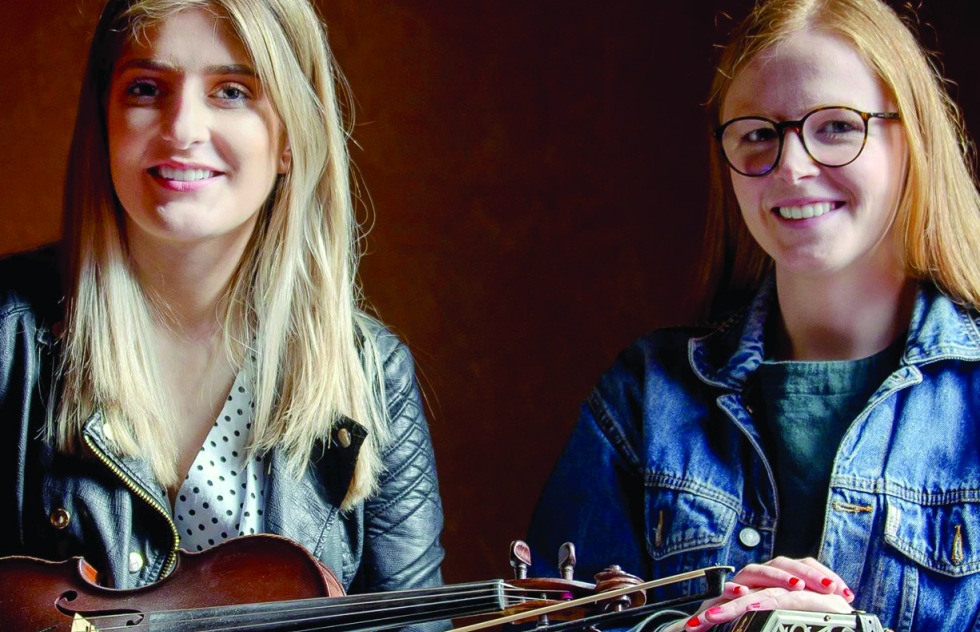 11/10/2019
Doireann Ní Ghlacáin (veidhlín/amhráin), Sarah Flynn (consairtín) le John Flynn (giotár)

Beirt cheoltóir cumasacha traidisiúnta den scoth ó Bhaile Átha Cliath – Doireann Ní Ghlacáin & Sarah Flynn – a bheidh linn ar an Aoine 11ú Dheireadh Fomhair. Tá albam iontach nua eisithe acu 'The Housekeepers' agus beidh John Flynn (giotár) ag seimnt leo ar an oíche.
Irish traditional musicians Doireann Glackin (fiddle) and Sarah Flynn (concertina) are neighbours and musical partners who have grown up immersed in the incredibly vibrant traditional music scene in Dublin. At a house party on the eve of 2018 they asked themselves a question: Where were all the women in Irish Traditional Music during the last century? Thus began a two-year road trip as they attempted to find the answers.
And their inquiries certainly yielded the goods – a remarkable collection of music – rare tunes and unusual versions of more common ones, drawn from the repertoires of five extraordinary women – Aggie Whyte, Nora Hurley, Ella Mae O'Dwyer, Ellen Galvin and Mollie Myers Murphy. The results are to be heard on their debut duet album The Housekeepers. Informed by the playing of the five ladies and by the likes of Tommy Potts, Bobby Casey and Frank O'Higgins it is spacious and minimal; for the most part unaccompanied fiddle and concertina.
Since forming a duet in 2015 Glackin and Flynn have performed both nationally and internationally including Tunes in The Church, Expo Milan and Museo Internazionale e Biblioteca Della Musica, Bologna. Following the hugely successful launch of their debut album The Housekeepers in Dublin they are currently on the road with further launches in Galway, Cork, Clare, Electric Picnic, London and Birmingham, to name but a few.