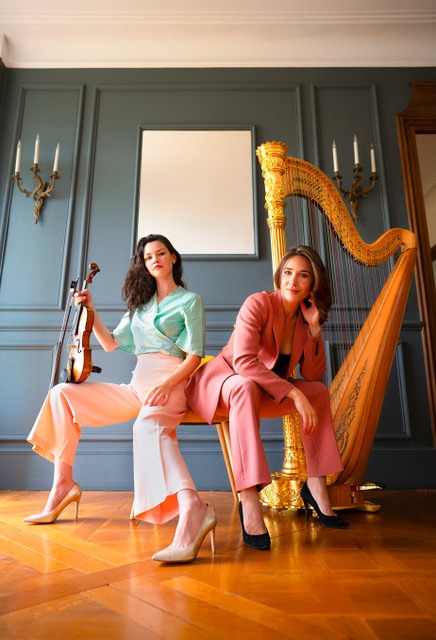 Thursday 7th October 2021, 8pm
Mairéad Hickey & Anaïs Gaudemard
Déardaoin 7ú Deireadh Fomhair 2021, 8in
Thursday 7th October 2021, 8pm
Ticéid: €15/€10
……………………………………………………………………………
Clár/Programme:
Louis Spohr Sonata Concertante in E-flat Major for violin and harp, Op.113 no.4
Johann Sebastian Bach Andante and Allegro from Sonata No. 2 in A minor, BWV 1003
New Music Network Commission
Luigi Maurizio Tedeschi Elegia Op.22
Louis Spohr Fantasie in C minor, Op.35
Pauline Viardot Haï Luli!
Jules Massenet Méditation de Thaïs
Camille Saint-Saëns Fantaisie in A Major, Op.124
Táimid ag súil go mór leis an bheirt cheoltóir iontach seo a chlos san Ionad Cultúrtha. Tá gradaim thar na bearta buaite ag an Corcaíoch Mairéad Hickey ó bhí sí ina chailín óg agus beidh sí le clos I dteannta an sár-chláirseoir Anaïs Gaudemard ón bhFrainc don dturas seo atá a chur ar stáitse I gcomhar le Music Network.
A captivating new duo featuring the celebrated Irish violinist Mairéad Hickey and the acclaimed French harpist Anaïs Gaudemard.
Like coffee and cake, fish and chips or Fred and Ginger, some pairings just can't be topped. The exquisite combination of violin and harp is most definitely a match made in heaven, and no more so than in this new Music Network collaboration between Irish violinist Mairéad Hickey and French harpist Anaïs Gaudemard.
Celebrated for her captivating expression, soaring tone and fearless virtuosity, Mairéad Hickey's natural ability to communicate sincerely, and with beauty and integrity has entranced audiences worldwide. Anaïs Gaudemard is recognised as a musician of exceptional talent whose mastery of her instrument alongside an ability to deliver extraordinarily expressive performances has won her widespread acclaim.
Featuring a beautiful selection of music by Bach, Saint-Saëns, Massenet, Viardot, Spohr (the inventor of the violin chin rest no less!) and a brand new Music Network commission, their programme will delight and enthral music lovers around the country.