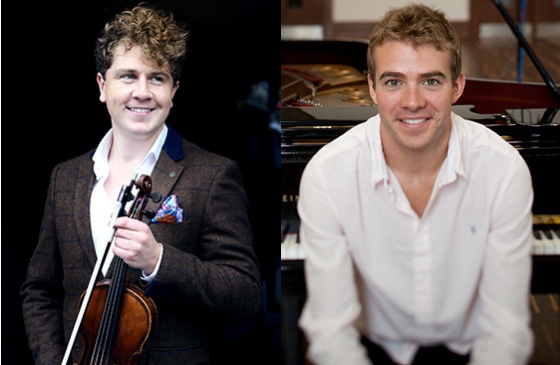 Friday 18th June 2021, 8pm
Patrick Rafter – veidhlín
Fiachra Garvey –  pianó
Dé hAoine 18ú Meitheamh 2021, 8in.
Friday, 18th June 2021, 8pm
Ticéid: €10
Beirt dos na ceoltóirí claisiceacha is aitheanta is cumasaí sa tír is ea Patrick Rafter agus Fiachra Garvey atá tar éis teacht le chéile don dturas fíorúil fíor-speisialta seo I gcomhar le Music Network. Beidh clár álainn acu dúinn le ceol ó Fauré, Franck, Ysaÿe chomh maith le coimisiún atá cumtha go speisialta don dturas seo ag an cumadóir Éireannach, Emma O'Halloran. Chomh maith leis an ceol, beidh deis ag an lucht féachana aithne a chur ar na ceoltóirí iad fhéin tríd cúpla agallamh a bheith fite fuaite tríd an clár.
Violinist Patrick Rafter and pianist Fiachra Garvey join forces to present a stunning programme of music from France, Belgium and Ireland.
"I'll get my coat!" cried Patrick Rafter when Maxim Vengerov phoned to invite him to study with him in Switzerland, and since then, Patrick's diary has been stuffed with performance dates with some of the most prestigious orchestras and conductors in the world. Kilkenny born, he swapped his hurl for a bow, and his swift rise to being one of Ireland's finest musicians is no surprise given his innate musicianship, his dazzling technique and his passion.
Fiachra Garvey is possessed of a maturity and profound understanding of his art, which when combined with his infectious enthusiasm for music-making, has already captivated audiences in concert halls across Europe and beyond. Patrick and Fiachra have planned a beautifully-ethereal programme, with works by Debussy, Franck and Ysaÿe presented alongside the world premiere of a new Music Network commission by Emma O'Halloran.
Along with this beautiful programme of music, viewers will hear from the musicians in interviews hosted by Music Network's CEO Sharon Rollston, and composer Emma O'Halloran will introduce her new work in a short Composer Insight Session during the broadcast.
Individually, Patrick and Fiachra are stellar musicians who are making a significant mark on the international stage. Together, their performance on this digital tour promises to more than clear the very high bar that these young musicians have set for themselves.
Clár/Programme:
César Franck Sonata in A major
Emma O'Halloran To turn in Circles New Music Network Commission
Eugène Ysaÿe Poème élégiaque in D minor, Op. 12
Gabriel Fauré Après un rêve, Op. 7, No. 1
"Belonging amongst the greatest violinists… this is passionate, abandoned playing, full of excitement, risks and drama… a dangerously virtuosic ability which seems to feed off itself." – Alexander Bailie, RDS Music Festival on Rafter