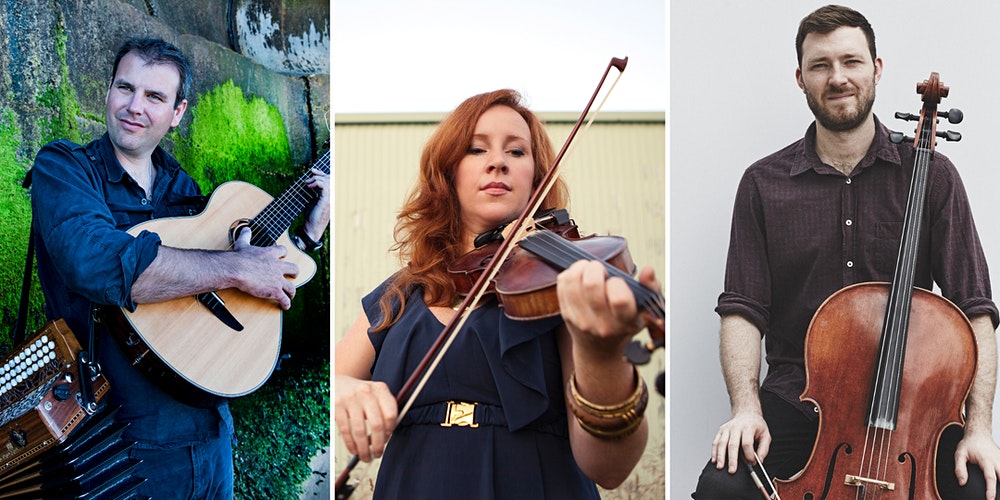 Music Network presents Tim Edey, Mairi Rankin and Eric Wright Irish Tour
Fri 13 May 8pm Ionad Cultúrtha, Baile Mhúirne | €20 / €15 / €5 u18 | 026 45733 | www.ionadculturtha.ie
This May Music Network brings together a trio of incredible international musicians, Tim Edey, Mairi Rankin and Eric Wright, for a seven-date nationwide tour from 5 – 13 May, including a performance at Ionad Cultúrtha, Baile Mhúirne on 13 May. Tickets cost from €5 to €25. A great night out with family and friends!
Musician of the Year at the 2020 MG ALBA Scots Trad Music Awards, Tim Edey is widely regarded as one of the finest ever exponents of both guitar and melodeon. Originally from Kent and of Irish descent, Tim honed his style from his father while also being heavily influenced by Ed Boyd, Steve Cooney and Django Reinhardt. He has toured extensively on the international stage and recorded with many major names in Celtic/contemporary roots music including The Chieftains, Christy Moore, Sharon Shannon, Natalie MacMaster, Dougie Maclean, Capercaillie, Frankie Gavin and many more.
Fiddle player, singer and step-dancer Mairi Rankin hails from the hugely influential Rankin family in Canada. Born in Nova Scotia, she has been inspired by some of the best Cape Breton traditional musicians on the island, leading her to develop her own unique and engaging style. She is a member of the Cape Breton super-group Beòlach whose latest album "All Hands" won two Canadian Folk Music Awards, a Fans Choice for the East Coast Music Awards and one Nova Scotia Music Award in 2021.
Inspired by American old-time and Irish music, cellist Eric Wright has forged his own path incorporating the cello into new and traditional music in unique ways, taking his innovative bowing techniques, chording styles, and 'the chop', to new levels. He is a highly sought-after performer, accompanist, and producer with multiple Canadian Folk Music Awards and Western Canadian Music Awards to his name. A 2017 JUNO awardee, Eric has just been nominated for another prestigious JUNO award with his band The Fretless.